Some time ago exactly in December 2017 I had the opportunity to be a speaker at the Technical Exchange Forum (TEF) held by PT Nusantara Regas. This forum almost routinely held every years in order to share information, experience, and knowledge, particularly on useful business and technical issues, each core business with the aim of keeping the system in synergy so as to produce excellent operations.
The topics raised in TEF 2017 is Exploring The Sinergy Between Business Operation and Project Initiatives to Meet Excellence Sustainability.Followed by several companies such as PT PLN, PT PLN P2B, Pertamina PHE ONWJ, Indonesia Power UPJP Priok, Pertamina Gas, PJB UP Muara Karang and PJB UP Muara Tawar. This activity runs for two days with some presentation materials as follows:
Meningkatkan Nilai Keekonomian Proyek dengan Menerapkan Metode IDLE di Proyek LPSU (Lima Power and Safety System Upgrade) LIMA Flowstation PHE ONWJ, Pertamina PHE ONWJ.
Penggantian PIPA 3-PHASE Bawah Laut KKA-KKNA dengan Konsep Desain Pipa RTP dilapangan KL PHE-ONWJ, Pertamina PHE ONWJ.
CNG Plant UP Muara Tawar, PJB UP Muara Tawar.
Profil UP Muara Tawar, PJB UP Muara Tawar.
Menstandarkan Dokumen Engineering (Data Sheet dan RFQ Template) untuk Mengoptimisasi Kualitas, Biaya, Waktu dan Sumber Daya, Pertamina PHE ONWJ.
Optimasi Biaya Pada Proyek Pengembangan Lapangan Minyak Marjinal Menggunakan Pendekatan Value Engineering, Pertamina PHE ONWJ.
Improve Performance Asset By Implementing Asset Reliability & Integrity Program, Pertamina Gas.
Custody Transfer, Nusantara Regas.
Kebutuhan Pola Operasi Gas Sistem Jawa Bali 2018, PT PLN P2B.
Rencana Proyek LNG Offloading System To Small LNG Carrier, Nusantara Regas.
Menyelamatkan Pasokan Gas ke PLN 2,4 Juta MMBTU Melalui Rekayasa Sistem Elektrikal dan Instrumentasi (Metode U-P-S) di Muara Karang ORF-PHE ONWJ, Pertamina PHE ONWJ.
Overview tentang Teknologi Energy Storage, PJB UP Muara Tawar.
Pola Operasi Combine Cycle PLTGU Priok dalam rangka mendukung Effisiensi Biaya Pokok Produksi, Indonesia Power UPJP Priok.
Upgrade Combustor Extendor GT 1.3, PJB UP Muara Karang.
Proyek Optimalisasi Kapasitas PT Nusantara Regas, Nusantara Regas.
Split Cargo in FSRU & BTU Accounting, Nusantara Regas.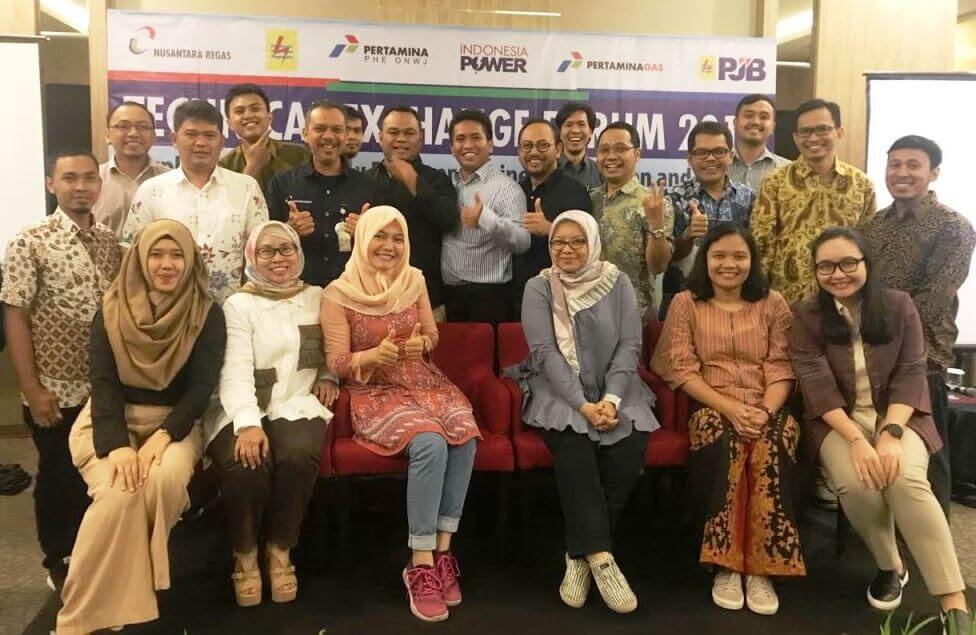 The interesting  about the Technical Exchange Forum is that the material presented is very diverse, as it consists of 3 different business cores, Oil and Gas, Power Generation and PLN, so that the participants who follow this activity know how each industry is managing their business, knowing the constraints faced and how to solve the problem. In addition, we also can know personally so that can establish good communication between different industries.
Activities that have a positive impact like this can be adopted by other industries not only for (internal) industry but also can be done to business partners indutri (external) company. The two days of the Technical Exchange Forum were noticeably fast, and Nusantara Regas as the organizer successfully organized the event of Technical Exchange Forum 2017.